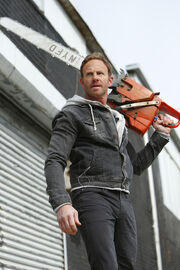 Finley Shepard
Production information
Feature films
Television programs
Video games
Portrayed by
Ian Ziering
Portrayed by
Animators
Voice
Created by
Inspiration
Character information
Full name
Finley Allen Shepard
Other names
Personality
Appearance
Occupation
Affiliations
Goal
Home
Relatives
Raye Shepard (mother) (deceased)
Gilbert Shepard (father) (deceased)
Ellen Brody (sister)
Martin Brody (brother-in-law)
Mora Brody (niece)
Vaughn Brody (nephew)
Gemini (cousin)
April Wexler (wife) (deceased)
Matt Shepard (son) (deceased)
Claudia Shepard (daughter) (deceased)
Gil Shepard (son)
Gabrielle Shepard (daughter-in-law) (deceased)
Wilford "Willie" Wexler (father-in-law)
May Wexler (mother-in-law)
Pets
Allies
Minions
Enemies
Likes
Dislikes
Powers and abilities
Weapons
Status
Alive
Quote
[Source]
Finley "Fin" Shepard is the main protagonist in the 2013 Syfy original movie Sharknado, Sharknado 2: The Second One "Sharknado 3: Oh Hell No", "Sharknado 4: The 4th Awakens"and "Sharknado 5: Global Swarming" .
Role in the film
Edit
Fin Shepard and his friends Baz Hogan and Nova Clarke search for his wife April Wexler and his teenage daughter Claudia. Fin and his friends find them and April's boyfriend is eaten by the sharks. Fin and the rest of the group later meet with his adult son Matthew and decide to stop the threat of incoming "sharknadoes". After Matt lands on the ground, a great white shark plummets towards the remaining members of the group and Fin jumps into the shark's mouth with a chainsaw and cuts his way free with Nova, who had fallen into the shark's mouth while trying to bomb the tornadoes

Community content is available under
CC-BY-SA
unless otherwise noted.